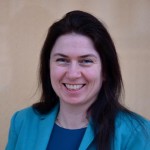 Interview with D-r Lubomira Baycheva, part of the younger generation dental specialists in Bulgaria, but already a dentist with over 17 years of dental practice. Visit her website at http://www.bulgariandentist.com/.
 Why did you become a dentist?
I liked the profession in high school. I was attracted by its multi characteristics combining knowledge of medicine, sculpting, psychology, management. The work is diverse, everything is changing very rapidly. It is a pleasure to help people who appreciate my efforts for quality dental service.
Until now I've passed through many and varied specializations and, after so many years continue to attend post-graduate courses to enhance and further develop my knowledge. Dental Technology is developing really quickly and if a professional wants to carry weight he should be constantly improving. Over the years I specialized in American orthodontic system "Orto-Tain" (www.ortho-t.eu, www.ortho-tain.com) and Italian Implant System "Isomed". I am proud to say that I am one of the most experienced professionals about it.
Tell us some more about this system?
"Ortho-T" is for adults and children over 3 years as a working alternative to braces. Experts recommend it, and parents prefer it for their children due to sparing effect on the tissues, and especially because it offers" hidden treatment". With this system the unit is worn only at home, no psychological effect on the child and the physical risks of loss and breakage of the device are much smaller.
What makes you proud as a professional?
I am proud that I was able to learn my patients regularly to carry necessary maintenance, in order to have healthy and beautiful teeth – professional cleaning, followed by polishing of teeth and existing fillings. This ensures not only healthy periodontium but also extends the life and aesthetic appearance of restorations. Neglect and irregular maintenance are the basis of subsequent complications, long and expensive treatments and even loss of teeth.
The general level of my practice is very high and will do my best to keep it this way. Due to the recent advances in dentistry, our work becomes better and better, aesthetics increases. We are better protected and it is easier for dental professionals to perform their work. Therefore, quality dental tools are out of question – they are necessary. I am especially glad, when we talk about world-class dental instruments manufactured in our country Bulgaria.
What problems do you experience in your practice?
I think in Bulgaria we need to follow best practices by introducing common standards, updated annually according to the global ones. Lack of standards confuses patients. While trying to find and evaluate the original and quality products and services, patients may become victims of unfair practices and unfair competition.
Thank you for this interview.
Прочетете интервюто на Български.